F. Reese Freyer, III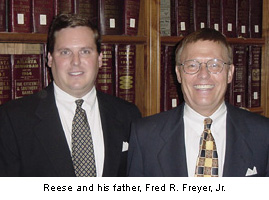 Reese Freyer (pronounced "Frayer") has had a highly successful 13 year career as a broker specializing in the sale of foreclosed properties in Atlanta and other markets around Georgia. He is well respected in the local real estate community as a knowledgeable, aggressive and creative marketer of foreclosed properties.

Reese's career began in 1988 as an assoicate with Property Systems Corporation, a company specializing in land brokerage and single family home sales. In 1996, Reese became President and Qualifying Broker of Property Systems, which today has 4 offices and 105 agents in Metro Atlanta, Augusta and Columbus. Property Systems is liscensed in Georgia, Alabama, and South Carolina.

In 1992, Reese was elected the Young REALTOR OF THE YEAR by the Atlanta Board Of REALTORS. He served the Atlanta Board as Chairman of its Young Council and was the youngest person elected to the Board's Board of Directors. Reese has served the Georgia Association of REALTORS as Treasurer and Chairman of its Young Council and as a member of its Board of Governors. Reese is a life member of the Atlanta Board's Million Dollar Club and was the Property Systems' Top Producer in 1995, 1996, 1997 and 1998.

Reese's client list includes: South Trust Bank, BankOne, Commercial Credit Corporation, American General Finance, Fleet Finance, SunTrust Bank, CitiFinancial, Integrated Asset Services, HomeSteps (Fannie Mae), PCV MURCOR, J.C.L. Asset Management and Consolidated Asset Management.

Reese is a graduate of the The McCallie School (Chattanooga, Tennessee) and Mercer University (Macon, Georgia). At Mercer Reese was a campus leader, a member of S.A.E. fraternity and a scholarship player on Mercer's tennis team.

Reese, a bachelor, has many varied interests. He loves the outdoors and is an avid fisherman, boater and camper. When he is not practicing real estate you can find him at his Lake Oconee property or at his family farm in south Georgia. Reese loves to travel and has been to the People's Republic Of China, Russia, South America and twenty one countries in western Europe. He is a certified open water SCUBA diver. Reese is a member of Holy Innocents' Episcopal Church and The Diplomats, an Atlanta social club. Reese has also served on numerous McCallie and Mercer Alumni Committees.